Written by: Justin C.

Thursday, June 13, 2019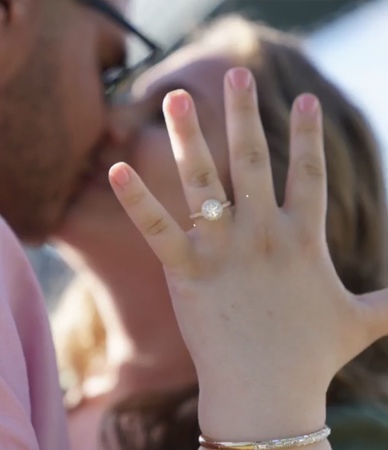 Keith Saxe.... how do I even begin to describe Keith Saxe?
Just like the perfect diamond, navigating the engagement ring process with Keith and his team is flawless.
I came across Keith via a recommendation from one of my best friends. Her and her fiancé met with tons of jewelers both in and out of the Diamond District and raved about Keith's professionalism, knowledge, and prices. So needless to say when I began the process of shopping for my now-fiancé's ring, Keith was my first stop.
Before we met Keith asked what I was looking for, what was important to me, and my budget and never deviated. He prepared an stunning presentation of diamonds and took the time to educate me on the four C's, the GIA certification process, and more. I absolutely fell in love with one diamond but at that time I wasn't ready to move forward and Keith understood and wasn't pushy, however he remained a resource for anything I needed. As a salesperson by profession, I hate being sold (especially poorly).
Over the next few months I met with multiple other jewelers both in and out of New York and no ones price and quality compared to Keith's (and that's not counting those that lied straight to my face!). For the same end product Keith beat other retailers (even online ones) by THOUSANDS of dollars. Needless to say all roads led back to Keith. He was even able to get his hands back on the diamond I fell in loves with months before. Keith and Staley then worked with me on making my vision a reality on a beautiful custom double halo setting with one halo facing vertically and the other at a 45° angle- very different from things they had some previously.
Upon picking up the final product I was blown away and a few weeks later- she said YES.
Everyone I spoke to "had a guy" when it came to diamonds, I'm happy to say that I have the best guy.
~Justin C.